VALCHLOR® (mechlorethamine) gel is an alkylating drug indicated for the topical treatment of Stage IA and IB mycosis fungoides–type cutaneous T-cell lymphoma (MF-CTCL) in patients who have received prior skin-directed therapy
Stage IA/IB MF-CTCL is routinely managed by
qualified skin experts1
MF-CTCL is a difficult to diagnose, slowly progressing form of cancer that appears on skin1-3
Patients can present with different symptoms that resemble other inflammatory skin conditions.3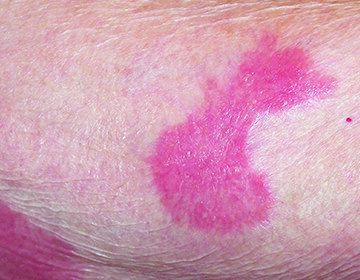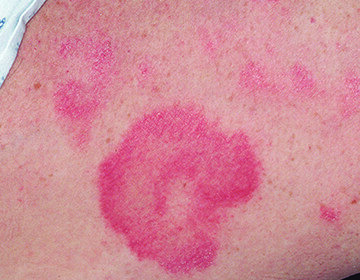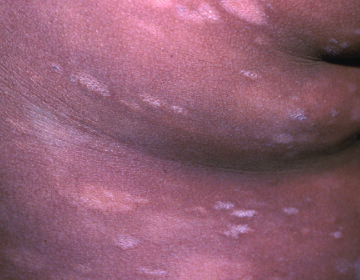 Artistic rendition of Stage IA/IB MF-CTCL. Not actual patients.
Many patients can be symptomatic for years prior to diagnosis3
Probability that patients will remain progression-free for at least 10 years.4
Treatment plan may be optimized with an earlier diagnosis
Delayed diagnosis can lead to disease management challenges and patient frustration3,5-8
Median time from first symptoms to MF-CTCL diagnosis (all stages of MF-CTCL).4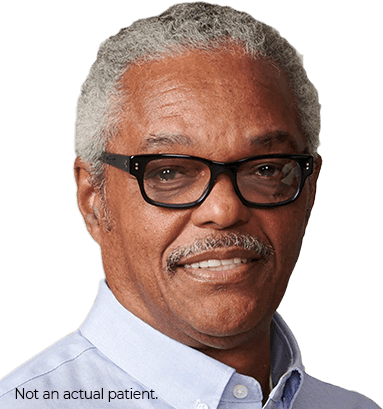 Key risk factors for MF-CTCL
Common patient characteristics (not limited to)2:
Age: 55 to 60 years
Gender: Male
Race: African-American
NCCN Clinical Practice Guidelines in Oncology (NCCN Guidelines®) recommendations for diagnosis9
Biopsy of affected area (multiple biopsies may be required)
Dermatopathology assessment
Immunohistochemistry panel
Molecular analysis to detect clonal T-cell antigen receptor (TCR) gene rearrangements or other assessment of clonality
Chronic use of corticosteroids and increased potency of steroid usage may lead to systemic absorption.9
References:
Lymphoma Research Foundation. Getting the facts: cutaneous T-cell lymphoma. Lymphoma Research Foundation website. https://www.lymphoma.org/wp-content/uploads/2017/06/LRF_FACTSHEET_Cutaneous_TCell_ Lymphoma_CTCL.pdf. Updated August 2017. Accessed November 19, 2018.
Ahn CS, ALSayyah A, Sangüeza OP. Mycosis fungoides: an updated review of clinicopathologic variants. Am J Dermatopathol. 2014;36(12):933-951.
Wilcox RA. Cutaneous T-cell lymphoma: 2016 update on diagnosis, risk-stratification, and management. Am J Hematol. 2016;91(1):151-165.
Kim YH, Liu HL, Mraz-Gernhard S, Varghese A, Hoppe RT. Long-term outcome of 525 patients with mycosis fungoides and Sézary syndrome. Clinical prognostic factors and risk for disease progression. Arch Dermatol. 2003;139:857-866.
Demierre MF, Gan S, Jones J, Miller DR. Significant impact of cutaneous t-cell lymphoma on patients' quality of life. Cancer. 2006;107(10):2504-2511.
Chase AB. Optimizing care and compliance for the treatment of mycosis fungoides cutaneous t-cell lymphoma with mechlorethamine gel. Clin J Onc Nursing. 2015;19(6):E131-E139.
Talpur R, Singh L, Daulat S, et al. Long term outcomes of 1263 patients with mycosis fungoides and Sézary syndrome from 1982 to 2009. Clin Cancer Res. 2012;18(18):1-21.
Mishra A, Porcu P. Early CTCL diagnosis, a (miR)age no more? Blood. 2011;118(22):5717-5718.
Referenced with permission from the NCCN Clinical Practice Guidelines in Oncology (NCCN Guidelines®) for Primary Cutaneous Lymphomas V.2.2019. © National Comprehensive Cancer Network, Inc. 2018. All rights reserved. Accessed December 17, 2018. To view the most recent and complete version of the guideline, go online to NCCN.org. NCCN makes no warranties of any kind whatsoever regarding their content, use or application and disclaims any responsibility for their application or use in any way.